'Agents of S.H.I.E.L.D.' Recap and Review: "All Roads Lead…"
Last night on Agents of S.H.I.E.L.D., the team faced off against Ruby and Von Strucker as they tried to get the chamber up and running. Here's a recap for "All Roads Lead…"
The Sleeper Agent
Under Hydra control, Talbot armed himself and continued to murmur about completing his mission until Mack found him checking out the security cameras. He acted like he was okay and Mack accepted his words at face value. Talbot found his way to Polly and Robin's room and began examining the girl's drawings. When the mother-daughter pair returned to their room they're wary of him despite his insistence that her drawings remind him of his son and he means no harm.
No Breaks for Fitzsimmons
Our newlyweds are put in another tough spot when they're forced to repair the chamber so Ruby can infuse the gravitonium and power up. They'd rather not lose each other, giving them no choice but to do the work. They're threatened several times throughout the episode to work fast and Fitz even took a couple of blows to the face from Ruby.
Elsewhere, Elena found her way to the quinjet through her pain. The aircraft has no signal so she can't send a message. She's also not aware the Werner reprogramed the LMDs to kill anyone found in the area around the base.
Give Her a Lemon
While most of the Agents of S.H.I.E.L.D. headed to Hale's base to take her down, Coulson, Mack, and Deke were left behind to work on the anti-gravity device for the Zephyr. Mack and Coulson both get on Deke for his feelings about Daisy. He tried to deny it but eventually asked for advice. With no help, he explained that in the future you save up and buy a girl a lemon to express your feelings.
Elsewhere, Creel continued to spiral as Quinn and Franklin's voices and rage swirled around in his head. When he explained the situation to Hale, she feared what the gravitonium would do to Ruby if Creel reacted this way after only touching the substance for a moment. When S.H.I.E.L.D. launched their attack, Hale quickly surrendered telling Daisy and May that Ruby went after the chamber and Fitzsimmons is in danger.
Trouble at Every Turn
With Hale and Creel in S.H.I.E.L.D. custody, Daisy and May decided to go after Ruby and advised Coulson to take a look at Robin's drawings. When they couldn't figure out the girl's work, they discovered that the camera outside of her room had been paused. The trio rushed downstairs and discovered Polly unconscious and Robin gone. Mack explained Talbot's earlier behavior and went off with Coulson to find him while Deke stayed behind with Polly. In the end, Mack had to shoot Talbot with an icer to keep him from killing himself or Coulson.
At the base, Ruby was only able to take in eight percent of the gravitonium before she began screaming. As her mother and the others arrived, Fitz shut down the chamber. Werner blamed them and threatened to shoot them before Ruby emerged out of the chamber levitating. Werner tried to comfort her when she began hearing voices, but when she touched him he died.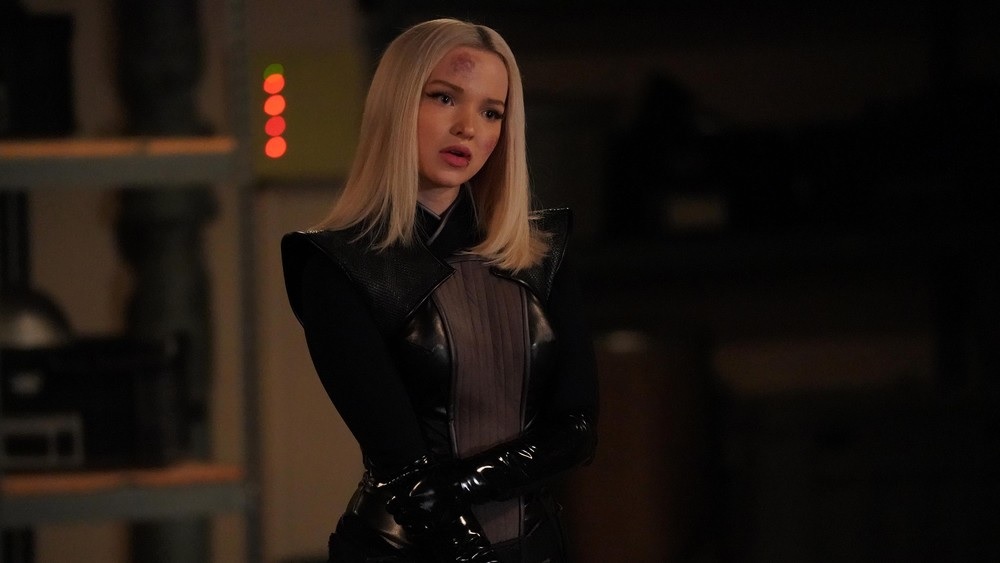 While Hale comforted her, May got Fitzsimmons out of the base while Daisy stayed behind. On their way out they came across Elena who after hearing that Daisy was left behind to take care of the situation went inside. When she arrived, Hale was losing her grip on trying to control Ruby as the voices in her head grew louder.
When Elena recognized her as the one who cut off her arms, Daisy reassured her that everything was under control. Instead of sitting back, Elena used her speed and Ruby's blade to cut the girl's throat with the belief that she had killed the Destroyer of Worlds.
After she died in her mother's arms, her body floated before releasing an energy blast. In the aftermath, Hale escaped to visit Qovos. She told him that despite her failure she could tell him where S.H.I.E.L.D. had the gravitonium. When he asked if she wanted him to kill them, she said that she wouldn't stop him.
Review of this week's Agents of S.H.I.E.L.D.
The writers clearly aren't afraid to get a little dark and gruesome. It was easy to see that Ruby wasn't going to survive until the end of the season, but I didn't expect YoYo to be the one to kill her, let alone slit her throat. That was a little out of character for our speedster, but her experience with losing her arms and seeing herself in the future has clearly taken a toll.
I'm excited to see where the storyline goes, especially with Infinity War out next week. The MCU usually impacts the show in some way so I can't wait to see how the idea of the Destroyer of Worlds changes after Thanos rolls into town.
I'm giving this week's episode a 9 out 10.
Agents of S.H.I.E.L.D. airs Fridays at 9 PM EST on ABC.
Kira McCall covers entertainment for MFST. She's a freelance writer and alum of Towson University where she studied advertising, public relations, and creative writing. Follow her on Twitter at cocovanilla45 (GirlsofManyFandoms) and kiramira_.
Kira is a Maryland native and NYC rookie. She's an advertising copywriter by day, fandom girl and funnel cake lover at night and pretty much every other point of the day.
Latest posts by Kira McCall (see all)
https://www.myfantasysportstalk.com/agents-of-s-h-i-e-l-d-recap-and-review-all-roads-lead/
https://i1.wp.com/www.myfantasysportstalk.com/wp-content/uploads/2018/04/jrvpiuvmuppmblnvipcs.jpg?fit=800%2C450&ssl=1
https://i1.wp.com/www.myfantasysportstalk.com/wp-content/uploads/2018/04/jrvpiuvmuppmblnvipcs.jpg?resize=150%2C150&ssl=1
Entertainment
Recent Posts
TV Shows
agents of s.h.i.e.l.d,Agents of S.H.I.E.L.D. Season 5,Daisy Johnson,FitzSimmons,hydra,Jemma Simmons,Leo Fitz,marvel,Marvel TV,Melinda May,Quake,Ruby Hale,Werner Von Strucker
Last night on Agents of S.H.I.E.L.D., the team faced off against Ruby and Von Strucker as they tried to get the chamber up and running. Here's a recap for 'All Roads Lead...' The Sleeper Agent Under Hydra control, Talbot armed himself and continued to murmur about completing his mission until Mack...
Kira McCall
kemccall44@gmail.com
Editor
MyFantasySportsTalk