"Home" – Game of Thrones Instant Reactions
YES! YES! YES! YES! YES! YES! YES! YES! YES! YES! YES! YES! YES! YES! YES! YES! YES! YES! YES! YES! YES! YES! YES! YES! YES! YES! YES! YES! YES! YES! YES! YES! YES! YES! YES! YES! YES! YES! YES! YES! YES! YES! YES! YES! YES! YES! YES! YES! YES! YES! YES! YES! YES! YES! YES! YES! YES! YES! YES! YES! YES! YES! YES! YES! YES! YES! YES! YES!
Ok guys thanks for reading this week's Instant Reactions article for Game of Thrones. You can follow me on Twitter @couch_qb and be sure to tune in to the website for all of your sports and entertainment news.
In all seriousness, I will be doing an instant reactions article this week, but is there anything else that really needs to be said? I felt like I was in a WWE Arena during Daniel Bryan's heyday or at an Islanders game after a home goal. People, we have gotten what we have all wanted: the resurrection of Jon Snow. I will talk more about his resurrection in a minute, but I have to start by saying how much I enjoyed this episode. Coming off of a slower (by Game of Thrones standards) episode of the show last week, Thrones picked up the pace significantly last night. With the events of last night, the show is officially starting to formulate the end game. Buckle in guys, because this show is about to get even crazier.
Don't Call it a Comeback, He's Been Here for Years
While he had been here for years, Jon Snow was on the shelf for only about a day or two (in show time) before taking breath once again. Yes everyone, Jon Snow is back, with the show ending on an amazing cliffhanger. The last fifteen seconds of that scene, from the point where Ghost stirs and Jon opens his eyes and breathes heavily in confusion, is one of the most satisfying moments in the history of the show. Game of Thrones is a show that rarely gives its viewers victories, but this may have been one of the biggest victories in television history.
Before his resurrection, we saw The Wildlings return to The Wall in an attempt to prevent the Night's Watch from grabbing hold of Jon's body. Seeing these Wildlings and their giant, led by my boy Tormund, take control of The Wall and apprehending Thorne and Olly was encouraging for fans in the onset of the episode. Their return established that our theories (specifically around Melisandre) had the chance to come to fruition. Then, in the closing scenes of the show, we saw Davos' plea with Melisandre to attempt the resurrection of Jon. Broken and faithless, we saw Melisandre in the same state that we left her at the end of the previous episode. Eventually, after much convincing, Melisandre performed a resurrection ritual on Jon, one that ended in supposed disappointment as nothing happened immediately. It wasn't until everyone had left the room that we had seen Jon's triumphant return.
Last thought on this: an important detail about resurrection was brought to my attention recently. In the show, Thoros of Myr (the only other confirmed character who can perform resurrection) stated that it wasn't until he had lost his faith that he was able to resurrect Beric Dondarrion. This is important for our main story here, as the final word spoken by Melisandre during her ritual wasn't a spell word, but the word "please." In this moment, in her apparent failure, Melisandre and those in the room with her had lost their faith. It took very human emotion, on the part of everyone involved, in order for Jon to come back. Boy, this show is deep.
Ramsay Needs to Rethink the Diet he is Feeding His Dogs
Well, that sure was unexpected. Game of Thrones never fails to surprise, does it? They have a knack for sometimes giving us what we want, but not exactly in the way that we wanted it (See: Baratheon, Joffrey). Receiving news that his wife had given birth to a male heir, Roose Bolton turned to his bastard son Ramsay and satiated his concerns. He told him that he would always be his first-born, confirming Ramsay as the heir to the North and to the Bolton line. With these news, Ramsay did what any good son would do, and drove his knife into the stomach of his father, leaving him to die on the floor. Now in control of the Bolton name, Ramsay turned his attention to his recently born baby brother and his stepmother, locking them in a cage and feeding them to his hounds. Scenes like these are hard to watch on this show, but we all saw it coming knowing how deep Ramsay's depravity runs. Now in control of the Bolton name and with the support of some powerful Northern Houses (evidenced by the Karstark representative's knowledge of Ramsay's assassination plans on his father), Ramsay plans to turn his attention to The Wall and Jon Snow. The eventual clash between these two will drive the season forward from here, and it'll be interesting to see how Ramsay responds to the eventual support that Jon is surely to amass given his recent resurrection. It's always good for a show to have a truly hatable villain, and Ramsay fits that role quite nicely.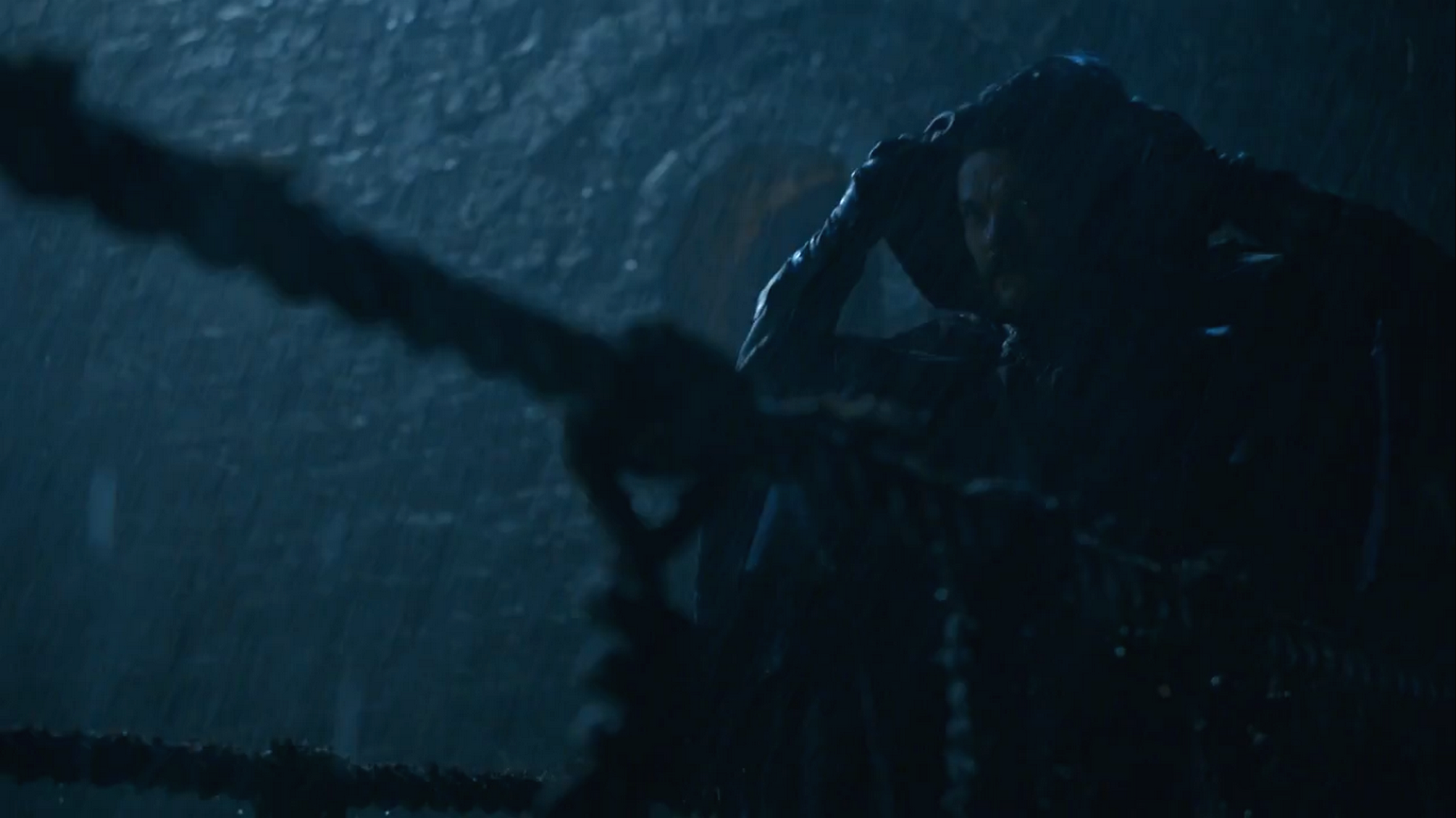 Wow, it Really was a Rough Week to be a King
First Roose (the King of the North) and now Balon Greyjoy, the King of the Iron Islands (side note: Balon was the last surviving King named by Melisandre during her leech ritual a few seasons back, so this girl really has some power). Establishing that he wants the Greyjoy presence to be felt on the mainland, Balon scolded his daughter Yara before making his way onto a bridge in a storm. Once there, Balon was confronted by his brother Euron, who supposedly had made his return to the Iron Islands after quite some time. After a brief back and forth discussion, Euron threw his brother over the side of the bridge to his death. It seems as if no one is aware of Euron's presence at the Iron Islands, let alone his involvement in Balon's death, so it stands to reason that he may be looked at as the next leader of the Greyjoys. I don't know much about Euron, but what I do know is that he's apparently a badass. With him at the helm of the Greyjoy army, the Greyjoys are sure to become a force in Westeros once again.
Other Notes:
For the first time in a season, we finally got to see what Bran was up to underneath that weirwood tree. Although little happened storyline wise, we did see that Bran was capable of seeing the past. After seeing a younger version of his father and family members, Bran now knows what he can do, and his power is surely to have some large implications in the weeks to come.
The scene shared between Sansa and Theon in the snow was one of great emotion for fans. Its a good move for Theon's character to have him make his return to the Iron Islands, but we'll have to see how Euron will respond to his nephew.
 Things at King's Landing are getting more complicated for the Lannisters, that's for sure. With the High Sparrow making a power move against Jaime at The Sept, Cersei tried to rekindle her relationship with her son. Although its encouraging that this relationship has been mended, and the fact that they have the Zombie Mountain on their side, you have to imagine that things will only get worse for the Lannisters.
Although she's still blind, its nice to see that Arya will be taken off of the streets and brought to a safer place to continue her training. At this point, its only a matter of time before she gets her sight back.
Tyrion's scene with the dragons was one of the best of the series so far. His retelling of the story of when he wanted a dragon of his own, and his apparent ability to earn their trust, says alot about the strength and bravery of his character. If Tyrion has the ability to earn the trust of dragons, who can't he convince?
Kyle Kirby covers TV for MFST. You can follow him on Twitter @couch_qb.
https://www.myfantasysportstalk.com/home-game-of-thrones-instant-reactions/
https://i0.wp.com/www.myfantasysportstalk.com/wp-content/uploads/2016/05/jon-snow-resurrected.png?fit=1024%2C571&ssl=1
https://i0.wp.com/www.myfantasysportstalk.com/wp-content/uploads/2016/05/jon-snow-resurrected.png?resize=150%2C150&ssl=1
Analysis
Entertainment
Recent Posts
TV Shows
game of thrones,HBO,TV
YES! YES! YES! YES! YES! YES! YES! YES! YES! YES! YES! YES! YES! YES! YES! YES! YES! YES! YES! YES! YES! YES! YES! YES! YES! YES! YES! YES! YES! YES! YES! YES! YES! YES! YES! YES! YES! YES! YES! YES! YES! YES! YES! YES! YES! YES! YES! YES! YES!...
Kyle Kirby
Kyle
Kirby
Couchqbkyle@gmail.com
Contributor
Kyle is a resident of upstate New York and graduate of Binghamton University where he majored in Education. A fan of all things sports, Kyle is also a self-professed wrestling nerd. Writing is one of Kyle's most passionate hobbies and he loves to get his opinion out there for the world to hear. You can follow him on Twitter @couch_qb.
MyFantasySportsTalk