MLS Fantasy Manager 2017 week 14
MLS Fantasy Manager Week 14 Picks
TOP FORWARD PICKS
David Villa, New York City F.C., $10.9
David Villa is already making a strong case for 2017 MVP and it's only June. It's tough to say how many goals he will have this week or how much time he will play but I think he'll notch some goals with twice the opportunity to get his team in the win column. Right now he's scoring more than a goal every two matches which means that statistically he should score at least one goal during this week's round. It also helps his chances playing both matches are at home this week which means less travel for less wear and tear. He's a good pick for captain.
Cyle Larin, Orlando City S.C., $9.4
Cyle Larin is turning a lot of heads from all over the world this season. He has shown a lot of improvement since joining the league and is living up to the hype he came into MLS with. I don't think it will be long before we see him somewhere overseas but until then he has to score goals for Orlando City S.C.. He's got two shots this week against two clubs he's capable of tagging for a goal each. I'm not sure if he will get rested for one of the matches but I think he has a better chance of playing in both of them with both opponents being in the same conference. He'll come up big twice if he plays twice.
Erick "Cubo" Torres, Houston Dynamo, $8.6
"Cubo" Torres has slowed his goal scoring pace after an amazing start to the season but he's still playing strong up top. I think he'll do better against Real Salt Lake than he will against Seattle which means he could come away with some bigger goals earlier in the week and could get rested for the road match. He's too important to the Houston attack to be sat for a whole match so he'll get his shot at each opponent. Torres should pick up his pace after a tough weekend to get back into the Golden Boot hunt.
TOP MIDFIELD PICKS
Diego Fagundez, New England Revolution, $7.7
Diego Fagundez is still one of the league's more inconsistent players but he has recently been more "on" than "off." Fagundez recently had two amazing matches before cooling off last week and I think a week of two games could do his numbers some good. I think he'll have a tougher time on the road against New York City but he will have a better match at home against Toronto F.C.. He doesn't have to score to pick up his numbers, Fagundez is capable of a great match with some assists and I think we will see that from him.
Justin Meram, Columbus Crew S.C., $10.0
Justin Meram is having another solid season for Columbus even if he has been quiet the past couple of weeks. I'll never understand why he flies under the radar the way he does when he's such a great player. I think he has a great shot at having a couple of great matches this week. Both matches are against opponents who are having underwhelming seasons and I doubt they'll be able to control Meram. He is too important to the attack to have a bad match and expect his team to win.
Cristian Roldan, Seattle Sounders, $7.3
Cristian Roldan is starting to heat up for the Seattle Sounders and it couldn't come soon enough. The Sounders need him to shine for the team if they want to get back into the playoff picture. I think this week will go well for Roldan because of how hard he is going to have to work to get his team some goals. The Sounders will have a tough couple of midfields to play against this week and I think this will benefit Roldan's numbers. I doubt he will score but he will pick up bonuses from his passing and possibly assists.
TOP DEFENSIVE PICKS
Adolfo Machado, Houston Dynamo, $5.2
Adolfo Machado is the type of defender who will go as far as the defense around him takes him. He's not a great player but he's capable of some solid defending for a team that has a penchant for not earning clean sheets. I picked him this week because I think he will benefit from a good match against the weak Real Salt Lake attack. I think he will have a tougher time against Seattle but he will have picked up enough points by then to make up for the weaker match.
Chris Tierney, New England Revolution, $5.7
While some players will go as far as their defense will care them, others will go as far as their team will. Chris Tierney is the type of player who is as strong as the entire team around him. The problem with this is when the team is having a tough year the way that the Revolution have. His numbers reflect the weak season but I think the Revolution will have a good week which means good numbers for Tierney. New England has a good shot at shutting down Toronto F.C. for clean sheet but I think he is another player who will get the majority of his points from his play than the final score.
Maxime Chanot, New York City F.C., $6.4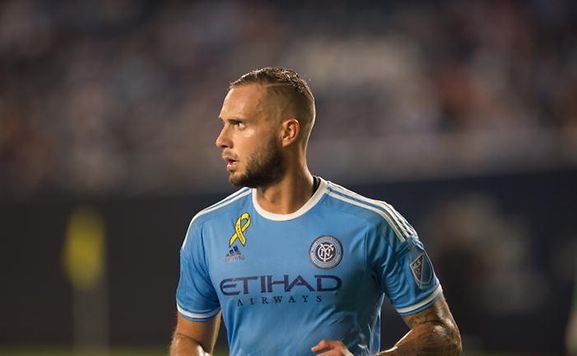 Maxime Chanot and the New York City F.C. defense are having a better season than last year. They've become more cohesive as a unit and understand their roles better. Chanot is a big reason for this improvement because of the time he finally had to adjust to the league and his teammates. Chanot has been consistent all season and I think that will carry over to both matches this week which have a high probability of each being clean sheets or low scoring matches. I think he's the best bet for a high-scoring defender this week.
GOALKEEPER PICK OF THE WEEK
Sean Johnson, New York City F.C., $5.7
Sean Johnson is still a solid goalkeeper for a team that doesn't have the strongest defense. New York City F.C. have a solid goals against average this season and he's a big part of it. I think that Johnson is the best shot this week for at least one clean sheet and two clean sheets are possible. He will probably face a lot of shots on goal which means bonuses for saves and I won't be surprised if he picks up bonuses for defending. But, the majority of his points are going to come from the lack of goals he lets in and it won't be many.
https://www.myfantasysportstalk.com/mls-fantasy-manager-2017-week-14/
https://i2.wp.com/www.myfantasysportstalk.com/wp-content/uploads/2017/05/nd4200832924246364o-1.jpg?fit=1024%2C682&ssl=1
https://i2.wp.com/www.myfantasysportstalk.com/wp-content/uploads/2017/05/nd4200832924246364o-1.jpg?resize=150%2C150&ssl=1
Analysis
Fantasy
MLS
News and Updates
Recent Posts
Soccer
chanot,Columbus Crew,columbus crew sc,ColumbusCrew,ColumbusCrewSC,Crew,Crew SC,Dynamo,fagundez,Houston,HoustonDynamo,Johnson,larin,machado,Major League Soccer,MajorLeagueSoccer,meram,mls,MLS Fantasy Manager,mlsfantasymanager,ne revs,NERevs,new England Revolution,New York City,new york city fc,newenglandrevolution,NewYorkCityFC,NYCFC,ocsc,orlando city,orlando city sc,OrlandoCity,orlandocitysc,revolution,Revs,roldan,Seattle Sounders,Seattle Sounders FC,SeattleSounders,SeattleSoundersfc,Tierney,Torres,villa
MLS Fantasy Manager Week 14 Picks TOP FORWARD PICKS David Villa, New York City F.C., $10.9 David Villa is already making a strong case for 2017 MVP and it's only June. It's tough to say how many goals he will have this week or how much time he will play but I...
Cesar Gutierrez
Cesar
Gutierrez
Cesarmartingutierrez@gmail.com
Contributor
Cesar "turtle" Gutierrez hails from San Antonio, Texas but currently lives in the Buffalo, NY area. He has a BA in English-Communication Arts from St. Mary's University in San Antonio, Texas and is a published poet. He lives, eats, and breathes soccer---primarily Major League Soccer. While he has an enjoyment of all sports and is able to talk or write about almost any thing, he'd sooner watch a soccer game before anything else and has been known to drive or fly cross country just for a game. You can follow him on Twitter @namcopunk or on Facebook at www.facebook.com/namcopunk.
MyFantasySportsTalk